We are Rosanna Cub Scouts, from Rosanna - a suburb of Melbourne, in Victoria, Australia - primarily serving the suburbs of Rosanna and Heidelberg.

Cubs are boys and girls aged from 7 - 10 years old, coming between Joeys and Scouts in the Scout Group. See What is Cubs.

The Cub Scout Pack is providing the experience of Cubs primarily for kids in Rosanna and Heidelberg, with the prime feeder schools being seen as Heidelberg Primary, St Johns in Heidelberg, Banyule Primary (shared with Viewbank Cubs), Rosanna Primary, Rosanna Golf Links Primary and St Martin de Tours (with the latter three also feeding to Macleod Cubs). Of course the actual choice of which Scout Group to go to, whether the child is attending these or any other schools, is up to the parents and child concerned. Surrounding Scout Groups can be found in Eaglemont, Ivanhoe, Heidelberg Heights, Macleod and Viewbank.

As you can see from the other pages on our site such as our Program page and Photos and Videos page, we do lots of fun things.

We are part of Rosanna Scout Group and meet at the Hall at:
De Winton Park
- enter off the corner of St James Rd and Manton St, Rosanna
..Melway 32 A2
- for Map, click here!
We meet on Tuesday nights, from 7pm till 8:30pm (apart from School & Public Holidays).


Who are the Leaders?
&nbsp &nbsp &nbsp &nbsp See our Leaders page &nbsp


How do I join or find out more?
&nbsp &nbsp &nbsp &nbsp See our Contact us/Feedback page

How do I hire the Hall?
&nbsp &nbsp &nbsp &nbsp See our Contact us/Feedback page

Our website, www.rosannacubs.org has been operating since the start of our Cub Pack in March 2007. It's designed to provide info on Rosanna Cubs in particular and Cub Scouts and Scouting in general, to our Cubs, Parents, and the wider community. It also is and continues to be an excellent recruiting tool for bringing new Cubs into our Pack. If you'd like to comment on our site, on our Cub Pack, or have any questions or suggestions, please send us an email.

Where people have visited Rosanna Cubs' Website from: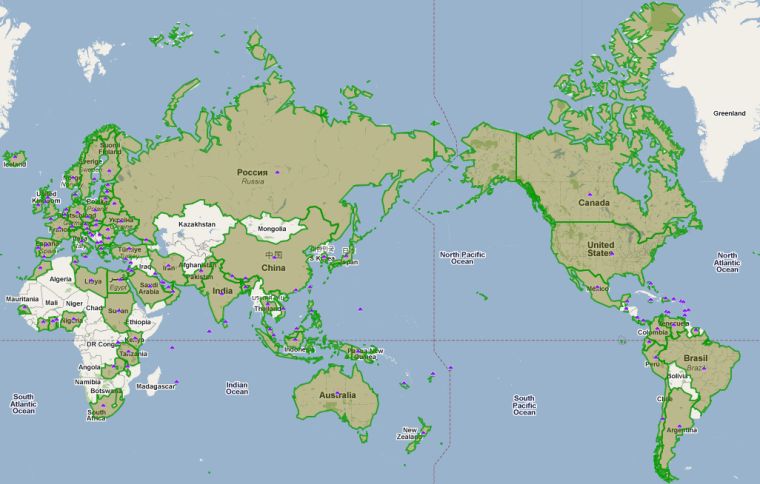 From the website's beginning, up to 31st December, 2009, there have been 20,174 visits to it from 123 countries and territories across the world.
Albania *
Antigua &
Barbuda
Argentina
Aruba
Australia
Austria
Bahamas
Bahrain
Bangladesh
Barbados
Belarus
Belgium
Belize
Bhutan *
Bosnia &
Herzegovina *
Brazil
Brunei
Bulgaria
Canada
Chile
China
Cocos (Keeling)
Islands *
Costa Rica
Colombia
Croatia
Cyprus
Czech Republic
Denmark
Dominican
Republic
Ecuador *
Egypt
El Salvador
Estonia
Fiji *
Finland
France
Georgia
Germany
Ghana
Gibralter *
Greece
Guam
Hong Kong
Hungary
Iceland
India
Indonesia
Iran
Ireland
Isle of Man
Israel
Italy
Ivory Coast
Jamaica
Japan
Jersey *
Jordan
Kenya
Kuwait
Latvia *
Lebanon
Libya
Lithuania
Macedonia
Malawi
Malaysia
Maldives
Malta
Mauritius
Mexico
Morocco
Nepal *
Netherlands
Netherlands
Antilles
New Caledonia
New Zealand
Nigeria
Norway
Oman
Pakistan
Panama
Papua New
Guinea *
Peru
Philippines
Poland
Portugal
Puerto Rico
Qatar
Romania
Russia
Rwanda *
Saint Kitts
& Nevis
Saint Vincent &
the Grenadines
Samoa
Saudi Arabia
Senegal *
Serbia
Seychelles
Singapore
Slovakia
Slovenia
South Africa
South Korea
Spain
Sri Lanka
Sudan *
Suriname
Sweden
Switzerland
Taiwan
Tanzania
Thailand
Togo
Trinidad
& Tobago
Tunisia
Turkey
Ukraine *
United Arab
Emirates
United
Kingdom
United States
Venezuela *
Vietnam
Zambia
* New countries added since our last update